Big Elk Industrial Park
BIG ELK INDUSTRIAL PARK is Elk City's newest Industrial Park, as Pioneer Industrial Park (20 acres) and Elk City Industrial Park (164 acres) are full. Big Elk Industrial park is 130 acres, platted, on rail with immediate access to Interstate 40. (All three Industrial Parks were developed and initially owned by the Elk City Industrial Authority). Over 140 Oil or Gas related companies operate in Elk City which is located in the Heart of the Anadarko Oil and Gas Basin.
Big Elk Industrial Park is "Shovel Ready" with curb and gutter streets and lots with Industrial sized utilities throughout the park.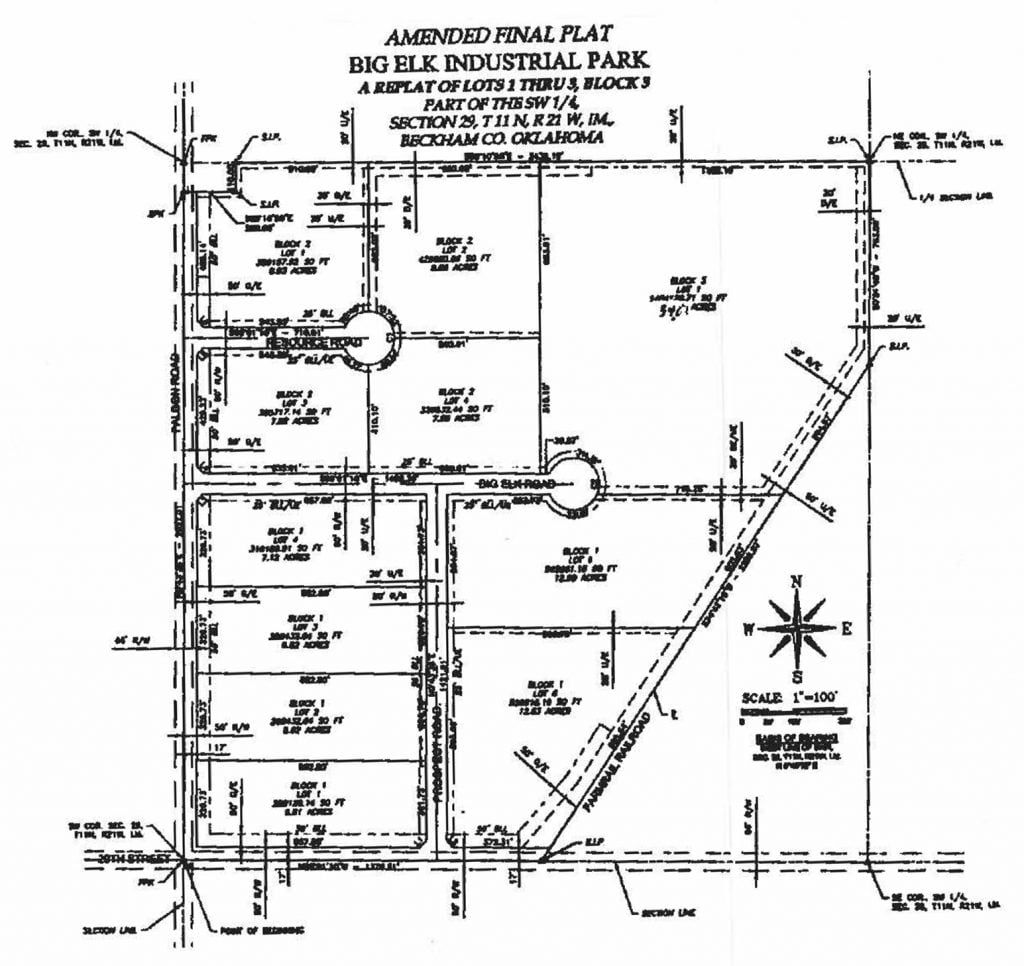 ELECTRICITY—is provided by Public Service Company of Oklahoma which has brought 3- phase power from its sub station located 1/2 mile to the North. Northfork Electric also has lines adjacent to the Park. Electricity within Big Elk is provided underground. Low cost power to operate your plant.
WATER— Elk City has a new $6 million water plant and has the capability and water to produce 17 million gallons of water per day, while currently only using approximately 4.5 million GPD. The Industrial Park is served by a 16" water line on the West via 12" water lines within the park, looping to a 22" water main line on the east boundary of the Park. Three above ground storage tanks holding 9.5 million gallons are located only 1.5 miles to the South. Lowest water rates in Oklahoma and have never had to require water rationing.
SEWER—8" sewer lines are installed within the industrial park.
GAS—is provided by Oklahoma Natural Gas Company via a 4" line with 300 lbs of pressure – low cost energy for your operations.
PROXIMITY TO I-40—Less than 1.5 miles to I-40 access point ramps, both east and west egress and ingress. Equidistant between Oklahoma City and Amarillo, Texas.
ACCESS TO TRAINING—Western Technology Center's Elk City Campus is part of the Oklahoma Career and Technology Center network and provides industry specific skill training at no cost to new companies and a wide variety of skill sets from line workers to Supervisor Training and Safety Training, as well as office skills and etc.
EXPEDITED PERMITTING PROCESS – Single point of contact with the City of Elk City 580- 225-3230.
The Big Elk Industrial Park is Zoned I-3 (Heavy Industry) which is the least restrictive.
High Speed Internet available in the park via AT&T and Dobson Technologies.
Oklahoma Spaceport is only 20 minutes southeast of Elk City.
Incentive Package
Companies in the Big Elk Industrial Park are eligible to apply for:
Oklahoma Quality Jobs 10 year CASH BACK Incentive Program
Small Employer Quality Jobs 7 year cash Incentive Program
Investment/New Jobs Credit Package
Former Indian Land federal accelerated depreciation program
Five year Ad Valorem Tax Exemption
Big Elk Industrial Park
130 Platted Acres, zone I-3 Heavy Industrial
Platted sites from 6.6 acres to 35 acres (can be combined)
1 1/2 miles to Interstate-40 Access and Egress
All utilities onsite throughout the Park Adjacent to Farmrail main line, linked to Burlington Northern Santa Fe (BNSF) and Union Pacific (UP)
Industrial strength streets, curb and gutter
Water, Sewer, Gas, Electric, Fiber installed to each platted site within industrial park
9.5 million gallons of water in tank storage 1 1/2 miles from park, 17 million per day capacity